Commission a Portrait of your Pet
Order a portrait today!
When you commission art from me, I promise to work on it until you love it!

To get started, I will need a clear picture to work from, and a few additional pictures to get a feel for your pet's personality.
You will receive a preliminary sketch with an option to approve or make changes, then an in progress update so you can see how the art looks at the halfway point. I will make sure you are happy with how it's going, I stand by all of my work!
What is it about the look your dog gives you that makes you melt? What is that expression your cat has that makes you laugh? It may not be obvious to most people, but it's that special quality that is undeniably YOUR pet—with their silly, sweet, curious spirit. When I study your pet, I try to understand the way you see them, why they are special and unique to you. I work very hard to capture their essence and personality so that you can remember it and smile every time you look at your treasured work of art.
Whether you're just looking to brighten up your home with something cute and personal, or you want to memorialize a lost loved one, I will work with you to deliver the exact piece and feeling that you want.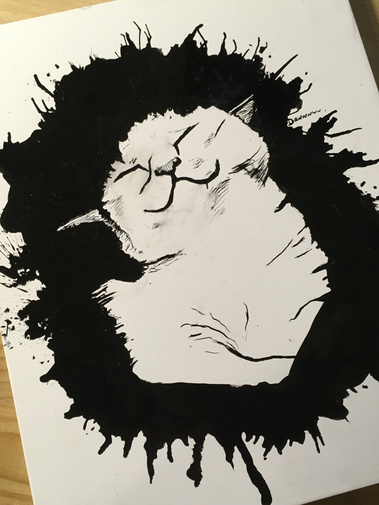 Commission info
Available in Pencil, Ink, and Paintings (gouache/watercolor)
Prices are based on a single pet, standard canvas sizes*
Pencil drawing
Basic 8x10- $75

11x14- $125
12x18- $150
Second pet in pencil drawing, add $35
Painting
Small 8x10 (modest, good for limited wall space)- $300
Medium 11x14 (recommended size) - $500
Large 12x18 (go big or go home)- $700
Additional pet in painting, add $50
*Extra large or custom sizes available on request!